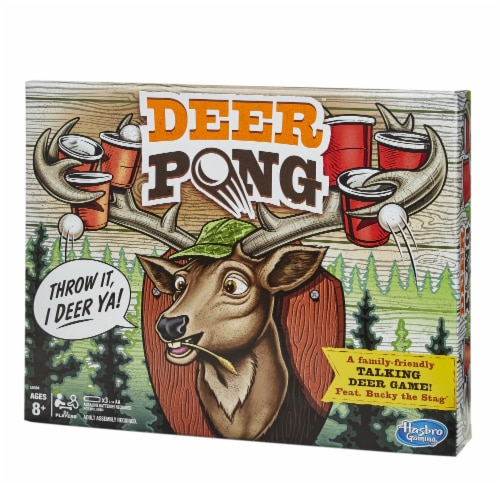 Hover to Zoom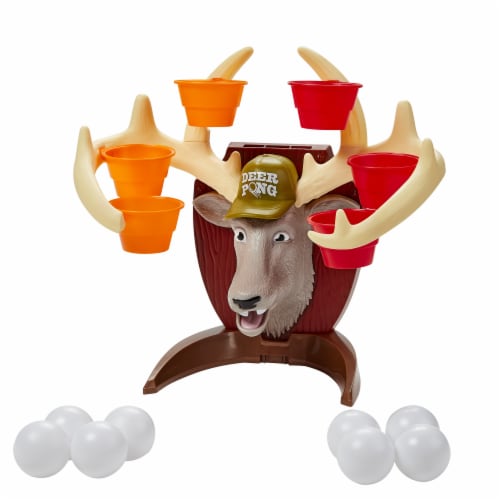 Hover to Zoom

Hover to Zoom
Hasbro Gaming Deer Pong Talking Deer Family Game
Product Details
Oh Deer! A talking deer amps up the fun in this funny and frantic race to be the first team to land its 3 balls in the antler cups. You don't know what this snarky stag is going to say next! There will be lots of laughs as Bucky the Stag moves his mouth while he comments on players' Deer Pong skills and is entertaining with music and other ridiculous banter. Switch to Joke Mode to hear his eye-rolling jokes and phrases. This fun family game is for ages 8 and up.
FILL THE CUPS: 3…2…1…shoot! Players on each team bounce or throw the balls into their team's cups. Keep going until one team's cups are filled.
OH DEER!: Meet Bucky the Stag. He's a talking, joke-telling deer mount who makes the Deer Pong game so much fun.
UNEXPECTED PHRASES: You don't know what he's going to say next! Bucky the Stag's mouth moves as he makes cheeky comments throughout the game. Hear more groan-worthy jokes and phrases in Joke mode.
---