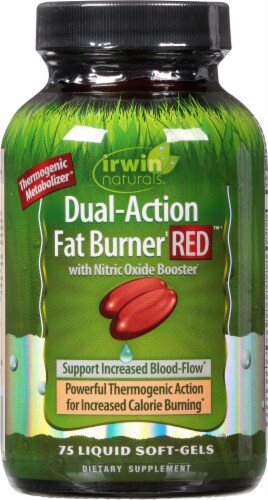 Hover to Zoom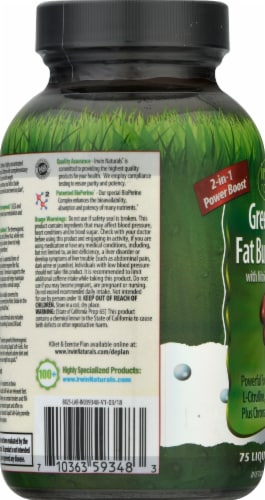 Hover to Zoom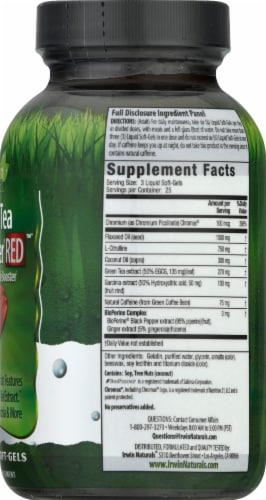 Hover to Zoom
Irwin Naturals Green Tea Fat Burner Red with Nitric Oxide Booster Dietary Supplement
Product Details
Green Tea Fat Burner RED™ combines a highly concentrated form of Green Tea extract plus natural Caffeine with complementary Chromium Picolinate (Chromax®) to assist with weight management, while delivering a nutritional and Nitric Oxide Boost.* When used with a reduced calorie diet and exercise plan, this product can help:
Increase Calorie Burning (thermogenesis): EGCG and Caffeine have properties that enhance your metabolism and help burn calories.
Increase Fat Burning (fat oxidation): The thermogenic combination of Green Tea extract and Caffeine that, while not literally "melting" fat off the body, has been shown to help oxidize fat and increase energy expenditure.
Support Metabolism: Chromax® is a patented form of Chromium, which is an essential nutrient required for fat, sugar and carbohydrate metabolism. Chromium supports the breakdown of carbohydrates into glucose and helps maintain healthy blood sugar levels already within a normal range.
Nitric Oxide Boost: L-Citrulline is readily converted to L-Arginine, which can then be converted into Nitric Oxide in the body, thereby helping to support blood flow.
Additional Nutrition: This advanced formula also includes Garcinia Cambogia, along with nourishing Coconut Oil and Flaxseed Oil.
Green Tea Fat Burner RED™ maximizes powerful thermogenic and nitric oxide boosting actions in fast-acting Liquid Soft-Gels.
For optimum results, use in conjunction with a reduced calorie diet and exercise plan to help you achieve your weight loss goals.
*These statements have not been evaluated by the Food and Drug Administration. This product is not intended to diagnose, treat, cure, or prevent any disease.
---