Hover to Zoom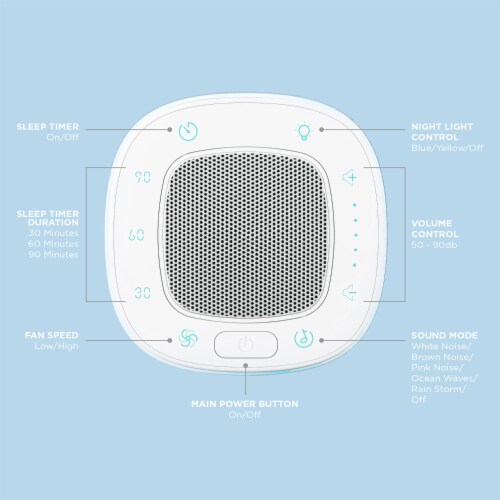 Hover to Zoom
KeySmart CleanLight® Snooze 4-in-1 Purifier - White
Product Details
Drown out disruptive noise and enjoy a peaceful night of sleep with the CleanLight Snooze. The 4-in-1 Air purifier and Sound Machine support deep, restorative, sleep and removes 99.5% of pathogens from the air including allergens, dust, smoke, and dander from the air, allowing you to breathe freely all night.
5 SOOTHING WHITE NOISE SOUNDSFind your favorite sound and adjust the volume: white noise, brown noise, pink noise, ocean/wave, rain.
2 STAGE AIR PURIFICATIONAn H13 HEPA filter and UV Light capture 99.95% of allergens, smoke, dust & other harmful particles. Simply remove and replace the accessible HEPA Filter every 3 months for maximum performance.
COMPACT & TRAVEL-FRIENDLYTake your CleanLight™ Snooze and enjoy clean, fresh air wherever you go. This air purifier is perfect for bedrooms, hotel rooms, and nurseries.
ESSENTIAL OIL DIFFUSERAdd essential oils to the diffuser sponge to infuse your air with your favorite scents.
BUILT-IN NIGHT LIGHTNight light emits a soft, warm light and can be turned on or off.
SLEEP TIMERTimer can be set to 30, 60 and 90 minute intervals.
---