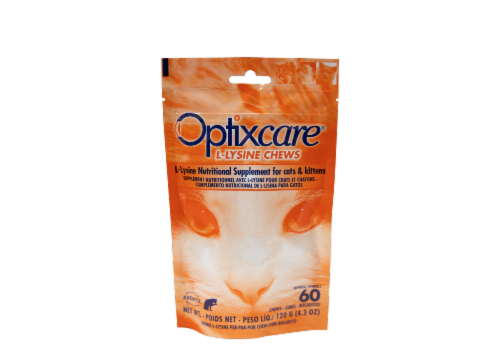 Hover to Zoom
Optixcare L-Lysine Chews (60 count)
Purchase Options
Sold and Shipped by
Product Details
Lysine reduces the incidence and severity of feline herpes in cats and kittens. This infectious disease can cause discomfort and pain in cats of all ages. Optixcare L-Lysine Chews are a nutritional supplement that reduce the severity and frequency of eye infections, or conjunctivitis, associated with feline herpes. Optixcare L-Lysine Chews are tasty, bite-size, easy to give soft chews. Palatability testing completed by an independent company showed that 83% of cats willingly eat Optixcare L-Lysine Chews. Each chew contains 500mg of lysine that is recommended by experts for best results.
Directions & Dosage
Cats can have one or two chews daily. Kittens should have a half or one chew daily, or as often as recommended by your veterinarian. Store in a cool, dry place. Keep Optixcare L-Lysine Chews out of reach of children and other pets. In case of accidental overdose seek medical attention. Optixcare L-Lysine Chews are not intended for use in livestock.
Ingredients
Ingredients include: Poultry Meal, L-Lysine HCL, Water, Sorbitol, Glycerin, Rice Starch, Soy Lecithin, Dried Pork Digest (Flavoring), Glucose Syrup, Salt, Perservatives: Potassium Sorbate, Ascorbic Acid, BHA, Citric Acid, Propyl Gallate, Ammonium Propionate, Propionic Acid, Phosphoric Acid, Sorbic Acid, Lactic Acid, and Propyl Phydroxybenzoate.
Nutritional supplement for cats and kittens
Each chew contains 500 mg of L-Lysine
6 kcal per chew
Shipping & Return Information
---