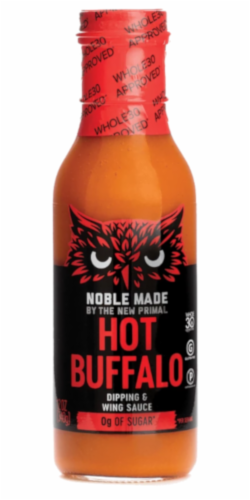 Hover to Zoom
Hover to Zoom
Hover to Zoom
Hover to Zoom

The New Primal Noble Made Hot Buffalo Dipping & Wing Sauce
Product Details
You probably know that firebreathers breathe fire. But did you know that they also eat fire? It's true. Well, kind of. The combination of cayenne and habanero peppers packs the kind of heat the most hard-core humans like to pour on their food. And since we had to get it into a bottle, a sauce just worked out better than, you know, actual flames.
WHOLE30 & PALEO APPROVED: The New Primal Buffalo sauces are Whole30 Approved and Paleo certified. This mean each delicious sauce keeps your meats and veggies - and you - well within your nutrition objectives.
CERTIFIED GLUTEN FREE: Each variety receives the stamp of strictest standards to promote a healthy gut and happy gut-check.
LOW FAT AND LOW CARB: Our sauces just happen to be low fat and low carb. Every flavor is free of refined sugar, gluten, dairy, soy, oil, trans fats, artificial fillers, and preservatives. (You guessed it... you wont miss those, either.)
HEALTHY AND DELICIOUS: Turn that bottle around and check out the list of tasty, natural ingredients. You know them, you can pronounce them, and they are already making your mouth water.
---