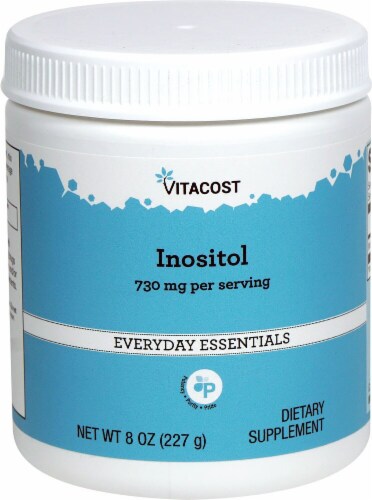 Hover to Zoom
Vitacost Inositol Powder Dietary Supplement
Product Details
What is Inositol?
Inositol is a substance found naturally in legumes, cereals, nuts, fruits, human (not cow's) milk and animal tissue. It's considered "non-essential" because the body can synthesize it from glucose.
With the exception of niacin, the body contains more inositol than any other vitamin. Inositol is a precursor of phospholipids, a major component of cellular membranes. It's also found in large quantities in the brain and cerebrospinal fluid and plays a key role as the secondary messenger system in the neurochemical systems of the brain.*
What are the key benefits of Vitacost® Inostitol?
Plays a role in normal growth and development.*
Supports mental health and stable, even moods.*
Promotes calm, even in stressful circumstances.*
Supports a more relaxed attitude in those that are overly neat and orderly.*
Supports healthy ovarian function thereby promoting normal menstrual cycles.*
May support normal, smooth skin.*
Supports healthy lung function in preterm infants.*
Why is Vitacost® Inostitol your everyday essential?
Supplies 730 mg of inositol per ¼-teaspoon serving.
Contains 311 servings per bottle.
Potency • Purity • Pride
*These statements have not been evaluated by the Food and Drug Administration. This product is not intended to diagnose, treat, cure, or prevent any disease.
---