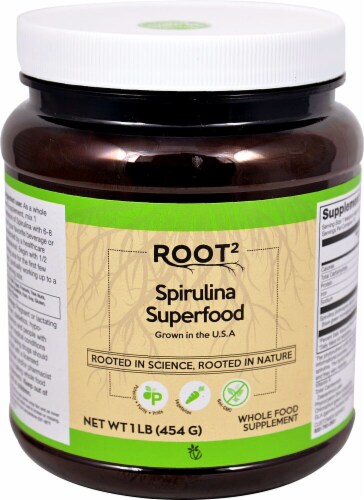 Hover to Zoom
Vitacost Root2 Spirulina Powder
Product Details
For natural, whole-food nutrition from one of nature's most concentrated sources of phytonutrients, chooseROOT2 Spirulina Superfood Algae Powder. Easy to take, simply stir a teaspoon of powder into any beverage or mix with food to obtain 3,000 mg of superior, non-GMO spirulina.
A type of single-celled blue-green alga, spirulina grows in fresh warm waters around the world and has been used as a food source since early times. In addition to essential nutrients-including vitamins, minerals and proteins-spirulina is a source of chlorophyll, the natural pigment plants use to convert sunlight into energy.
Our nutritionally superior, naturalROOT2 Spirulina Superfood Algae is grown in the United States without genetic modification for the purest, freshest spirulina powder available. Each bottle supplies more than 150 servings.
100% Vegetarian
Non-GMO
Free Of Artificial Colors, Flavors And Preservatives
No Chemical Fillers, Binders Or Stearates
Labels Printed On Recycled Paper With Water-Based Ink
*These statements have not been evaluated by the Food and Drug Administration. This product is not intended to diagnose, treat, cure, or prevent any disease.
---