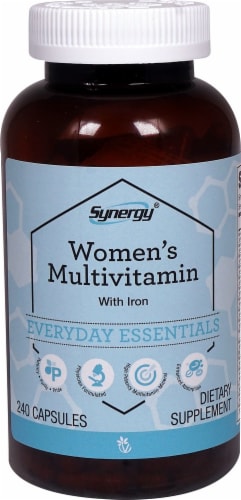 Hover to Zoom
Vitacost Synergy Women's Multivitamin with Iron Capsules
Product Details
What is Women's Multivitamin with Iron?
Women's Multivitamin is a high-potency multivitamin and mineral formula with 23 essential vitamins and minerals including iron, plus 19 antioxidants and other nutrients to support women's changing health needs.
Unlike other multis, Vitacost Synergy Women's Multivitamin with Iron includes beneficial nutrients rarely found in popular women's formulas, such as soy isoflavones, green tea, red wine extract and probiotics. It also features more than 100 percent of the daily value for 20 vitamins and minerals and includes high-quality, standardized forms of many nutrients such as Advan-C vitamin C (which is gentler on the stomach and readily absorbable).
What are the key benefits of Synergy Women's Multivitamin with Iron?
Serves as a good source of iron.
Supplies vitamin D for strong bones.*
Supplies soy isoflavones to support immune function.*
Provides CoQ10, pomegranate extract, green tea, quercetin and grape seed extract to promote a healthy heart.*
Provides green tea, pomegranate extract and grape seed extract for healthy weight maintenance.*
Each serving provides 3,000 mcg of biotin for healthy skin and nails.*
Features high-potency vitamin D. Each serving provides 2,000 IU of vitamin D3 .
Why is Synergy Women's Multivitamin with Iron your everyday essential?
Provides vitamins, minerals and antioxidants in one convenient formula.
Provides amounts greater than the DV for 20 different vitamins and minerals.
Contains ferrous bisglycinate chelate, a safe and highly available form of iron.
Contains high-quality ingredients not used by most multivitamin manufacturers.
*These statements have not been evaluated by the Food and Drug Administration. This product is not intended to diagnose, treat, cure, or prevent any disease.
---